Birch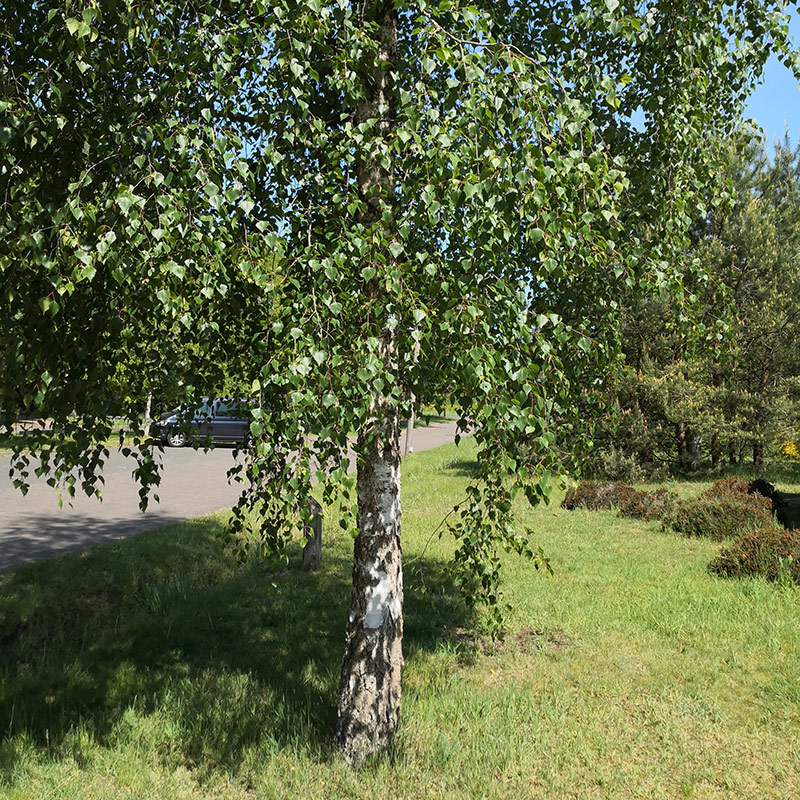 Photo: E. Stahl-Biskup
Botanical name
Downy or Silver Birch - Betula pendula Roth
Family
Birch family (Betulaceae)
Common name
Useful information about the plant
Among the native birch found in North and Central Europe to Siberia, the downy or warty birch (also white or silver birch) is the most abundant in Central Europe. It tolerates poor soils and harsh frosts and copes well with drought. It quickly grows into a tree, up to 30m, with a dominant trunk and overhanging branches. The white bark of the tree trunk is characteristic of all the birches, it peels off horizontally paper-thin. This white colour is caused by intercalated betulin in the bark.
It is believed that the name "Birch" comes from the Indo-European word "bhereo" = glossy white. The genus name Betula comes from the Latin "bitumen" (= mineral pitch, asphalt), because the Gauls often made a kind of bitumen from Birch sap (Gaulish Betu = resin, rubber, glue). The epithet pendula (Latin "pendulus" = suspended) refers to the drooping male inflorescences (catkins), up to 10cm long and / or the overhanging branches. The female flowers stand upright when in bloom, then later they hang up to 4cm long. Flowering time April-May. The leaves are typically rhombic and long tapered in shape with double serrated leaf edges. The moor birch is used medically (Betula pubescens Ehrh.). Their leaves are somewhat smaller.
Medicinally used plant parts (drug)
The leaves and bark freed from the cork are used. The commercial leaf medicine is from China, Russia, Poland and other Eastern European countries. The birch bark is only used industrially for the production of extracts.
Birch leaves: flavonoids and other polyphenols
Birch bark, betulin (triterpene)
Descriptions of the quality
The quality of the birch leaves (Betula folium) is specified in the European Pharmacopoeia (Ph. Eur). According to the Pharmacopoeia, the leaves of the Moor Birch (Betula pubescens Ehrh.) may also be used.
Medical Application
Birch leaves: flushing therapy for bacterial and inflammatory diseases of the urinary tract and renal gravel (Commission E, ESCOP), as well as assisting with rheumatic complaints (Commission E). The HMPC has classified birch leaves as a traditional herbal medicinal product (see "traditional use").
Birch bark: a dry birch bark extract proved itself in a clinical trial as being externally effective in treating actinic keratosis and psoriasis. Currently, however, only skin care products are available on the market and no pharmaceuticals.
Birch leaves were classified by the HMPC as a traditional herbal medicine (§ 39a AMG). Based on many years of experience, birch leaves can be used to increase the amount of urine and thus used for flushing the urinary tract in light urinary problems. They are traditionally used to help the excretory function of the kidneys or to improve the condition of rheumatic complaints (traditional use according to § 109a).
cut drug to prepare tea
dried extracts in tablet form and as soluble instant teas
alcoholic extract in juice
Dosage
Prepared drugs: see packaging leaflet.
Tea infusion: drink a cup of birch leaf infusion several times a day. Maximum daily dose of 12 grams of drug.
Pour boiling water over 2 to 3g of finely chopped birch leaves and strain after 10 to 15 minutes.
Advice
People allergic to birch pollen should not use birch leaves. Likewise birch leaves should not be applied for febrile urinary tract infections and acute prostatitis, as well as for the treatment of an oedema as a result of restricted renal or cardiac function.
The administration during pregnancy and breast-feeding is not recommended, because there is no experience on its harmlessness as yet. Also there are no findings for use in children under the age of 12.
Rare mild gastrointestinal discomfort, rare allergic reactions
Not known
References
Wichtl: Teedrogen und Phytopharmaka, pg. 127
Schilcher: Leitfaden Phytotherapie, pg. 59
Van Wyk: Handbuch der Arzneipflanzen, pg. 6
Kommentar zum Europäischen Arzneibuch (Birch leaves, no. 1174)